Packing supports are important for proper operation of a column because they not only support the packing, but also aid in vapor distribution.  AMACS designs and manufactures a variety of supports for both random and structured packing.  Factors to consider when selecting and designing bed supports include the following:
Type and size of packing
Maximum design loads – upward & downward
Process characteristics
Tower attachments and other associated supports, e.g. beams
Ease of installation and access
Random Packing Gas Injection Support Plates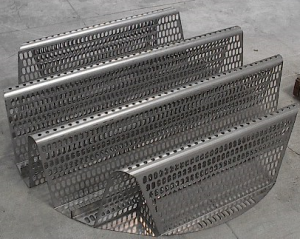 The design and construction of the multi-beam gas injection support plates targets achieving maximum open area while providing sufficient strength to support deep beds of random packing and the dynamic liquid hold-up created during column operation.
Multi-beam gas injection supports provide separate areas for rising gas and falling liquid.  The vapor passes through slots in the sides of the arches while the liquid tends to flow through the slots in the deck valleys resulting in excellent gas distribution with minimal pressure drop.  The open area of the slots ranges from 80% to 110% of the tower cross-section area.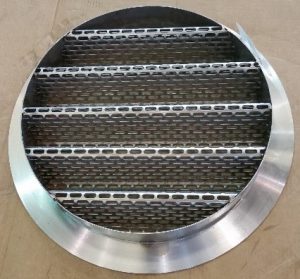 For columns of smaller diameters, the Gas Injection Support Plate can be supplied with an RMS finish on the plate periphery to allow the support to be sandwiched between the column body flanges.
This arrangement is supplied as one-piece construction and not only helps in simplifying the installation associated with smaller diameter columns but also helps with future maintenance and change out needs.
Structured Packing Support Grids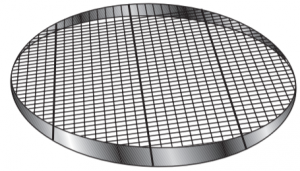 Grid-type packing supports are used for structured packing and are designed to achieve the necessary mechanical strength for deep beds of packing and the dynamic liquid hold-up produced during process operations.  While remaining a flat support for the packing, the support grid is still wide open enough so that it does not limit the capacity of the high-performance packing.
Structured Packing Support Grids are designed for ease of installation and are segmented to fit through column manways.  Each segment rests on an annular support ring and, when necessary, beams.  The material thickness and the grid height are adjusted based on the column diameter, packing height and the liquid hold-up.