Accuflow™ Inlet Diffuser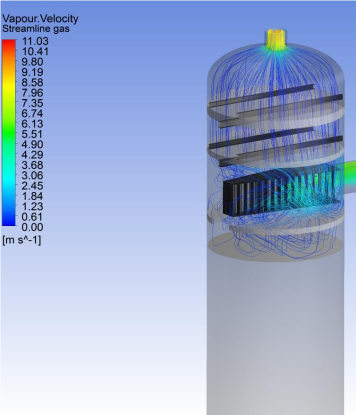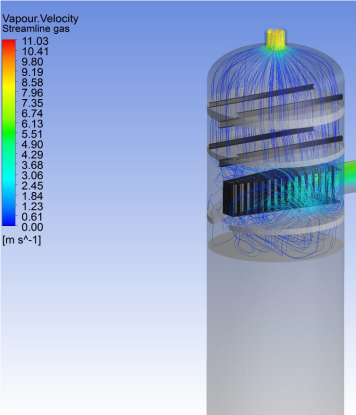 Accuflow™ Inlet Diffuser (Vane type inlet device) is a feed inlet device placed at an inlet nozzle for process streams with 2-phase (gas/liquid) entering a separator and/or scrubber. Primarily it reduces the inlet momentum of incoming stream and provides bulk gas/liquid separation while assuring a much better and uniform gas distribution across the vessel cross-section area, which is a key element for phase separation. In addition to this, it offers many others benefits that improve the overall separator/scrubber performance, including but not limited to, preventing further shattering of liquid droplets, and preventing re-entrainment of liquid from liquid surface.
Often higher gas flows coupled with an improper inlet device (such as Inlet Divertor, V-Baffle) may result in poor gas distribution, localized high velocities and in some instances can cause the gas stream to jet into the liquid surface. This in turn creates additional liquid entrainment and may flood the downstream mist elimination device, resulting in liquid carry over issues.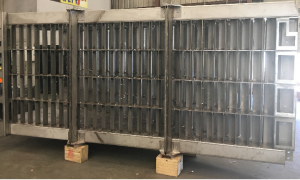 Accuflow Inlet Diffusers are most commonly found in separator/scrubber applications i.e. 2-phase (gas/liquid) or 3-phase (gas/liquid/liquid) applications. In addition, Accuflow™ Inlet Diffusers are also used in mass transfer applications such as distillation towers where it can be critical to distribute gas prior to downstream trays or packed beds. They can be designed for installation in either vertical or horizontal vessels.
MAXSWIRL® Inlet Cyclone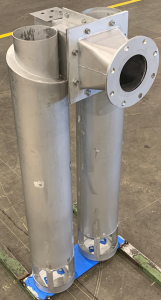 MAXSWIRL® Inlet Cyclone assembly comprises one or more vertical inlet cyclone tubes. Gas-liquid separation takes place within the tube(s) as the fluids pass downward through a static swirl and are brought into a swirling motion. The centrifugal forces generated by the swirling flow, pushes the incoming liquid to the cyclone wall. The gas reverses the flow direction and exits from the top of the tube, while the liquids flow down along the cyclone wall and ultimately exit from the bottom.
An advantage of MAXSWIRL® Inlet Cyclone is that they separate incoming bulk liquid, as well as a portion of the incoming mist. As the separation takes place within the tubes, this equipment is capable of handling high inlet momentums.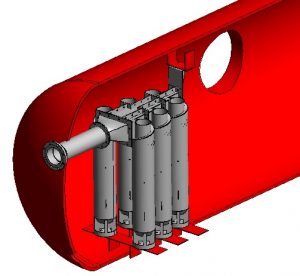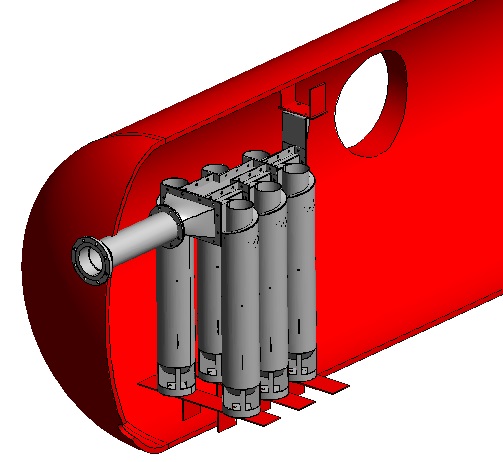 For proper functioning, the bottom liquid outlets of the inlet cyclones must be submerged in the liquid in the vessel. In the design of inlet cyclones for a given vessel, AMACS considers the operating cases, as well as off-design conditions to ensure that the hydraulic balance at the tubes is suitably satisfied ensuring performance in full range of operation.