Benefits of vane mist eliminator:
Low pressure drop.
High gas and liquid handling capacity.
Resistance to fouling.
Souders-Brown equation is still widely used to the determine the appropriate flow velocity for a given system. The Souders-Brown equation is as below:

Where:

Typical K values assuming an air-water system at ambient conditions are as below:
No pocket vertical flow = up to 0.5 fps
No pocket horizontal flow = up to 0.65 fps
Pocket vertical flow = up to 0.8 fps
Pocket horizontal flow = up to 0.85 fps
The above capacity factors are generalized numbers and derating factor should be applied based on operating and process conditions.
Standard Vanes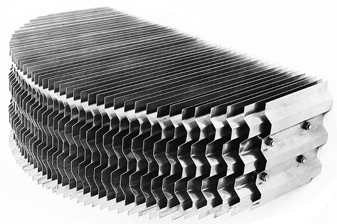 AMACS Plate-Pak™ Vanes are standard design without any pockets or hooks wherein the vane profile create the hydraulic pockets. AMACS' standard design profile allows for low pressure drop and are predominantly used applications where fouling is a concern. Multiple plate spacings are available which allows to achieve better impaction characteristics for smaller droplets. AMACS Plate-Pak™ Vane can be utilized in both horizontal and vertical flow configurations.
AMACS Plate-Pak™ Vane Product Sheet
Pocketed Vanes

The capacity of standard non-pocketed vanes can be increased by enhancing liquid drainage. Captured liquids are re-entrained when the velocity of the vapor exceeds the ideal/optimum velocity. To prevent liquid re-entrainment, the serpentine path offered by the vane is augmented with obstructions to allow for the pooling of liquid with protection from the passing vapor stream. AMACS pocketed vane blades are configured in such a way as to create pockets that allow droplets entrained in a gas stream to impinge and adhere, and then drain, without being re-entrained. This allows greater liquid capture with less in-pocket turbulence and shearing while reducing the pressure drop. Specific designs are available that can be utilized in both horizontal and vertical flow configuration.
Multi-Pocket™ Vane Product Sheet