Starch and Sugar Baskets

Wedge wire baskets of all different size and shape are used in the starch and sugar processing industry for solid-liquid separation. These screens combine the advantages of a high open area with great strength and are available in a wide range of continuous slot openings. AMACS baskets are designed to meet the customer's design temperature and differential pressure specifications.
Collectors and Distributors

Hub laterals are designed for vessels with elliptical heads and enable the system to collect completely to the bottom of the vessel. Header laterals are suited for flat bottom vessel distributor or collector applications. These systems can be designed to accommodate side, center, top or bottom inlet piping. Integral backwash systems can be designed for any hub or header lateral for a fast, effective and efficient cleaning of the screen. Laterals are usually connected to the hub or header with either flanges or threaded fittings. Systems are designed for effective liquid or solid retention in a wide range of applications including exchangers, clay or sand filtration, carbon towers and power plants with water systems. Our experienced engineering group designs each system to provide even distribution or collection across the entire cross-sectional area of the vessel.
AMACS Wedge Wire Laterals Product Sheet
Flat Panel Screens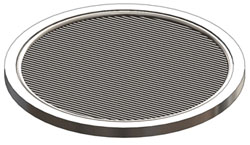 AMACS wedge wire style flat screens are fabricated using any combination of different wire sizes and support rods to meet customer demands for slot opening, width, length, temperature and pressure. Flat panel screens can be made as a single panel or in sections with framing bars to meet customer requirements.
Rotary Screens
AMACS rotary wedge wire screen cylinders are custom made to meet customer specified flow rate, slot opening, and direction of flow. The outside diameter (or inside diameter) and length of the cylinder are fabricated to ensure a match with other associated equipment. These screens can be rerolled in the helical or axial direction to allow flow from the inside out for dewatering filtration services in many industries such as food processing, agriculture, mining, paper pulp and water treatment.