Winning Plant Turnarounds Come Standard
Any process tower shut-down can cost a company millions in lost revenue. Having a partner with the latest products combined with engineering support and a dedicated team can help minimize costs and improve future operating costs. Enter AMACS Process Tower Internals, a Houston based company with decades of experience providing equipment and services for column upgrades, repairs, maintenance and turnarounds and a dedicated turnaround team available to customers day or night.
Strategically located in the Gulf Coast Energy Corridor
"AMACS has been doing business in Houston for over 50 years and is the largest separations and mass transfer internals manufacturer with engineering and production facilities in the area," says Executive Vice President Tom Wilson. "We manufacture in the heart of the largest concentration of process plants in the world; but our business is international."
A 24-7 global tower internals "pit crew"
"We often manufacture custom internals, including replacement trays and packing, in days not weeks," says Patricia Bareis, Director of Sales. "Our quick response time and plant turnaround support is a major factor in minimizing downtime. We like to think of our turnaround team as our customers' "pit crew," identifying problems quickly, working with perfectly timed precision, and providing a winning combination of proven products and unparalleled service."
Advanced separation and mass transfer technologies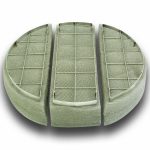 "We are a vertically integrated manufacturer of knitted wire mesh mist eliminators, an array of mass transfer and separation equipment and hardware," says Bareis. AMACS is the only North American licensee for Montz structured packing, with the ability to offer high separation performance and large throughput capacity.
"AMACS does more than replace identical equipment or manufacture to a customer's print," says Separations Technology Manager Kanti Patel. "We provide detailed application engineering support to assure the correct solution is chosen. We not only provide this expertise for each customers' application, we are also always involved in R&D in order to improve the performance and efficiencies of our products. We have our own test facility in Houston and have access to other high pressure, hydrocarbon test facilities."
Consignment tower hardware saves customers money
AMACS' hardware trailers are fully stocked with the inventory of each customer's towers, including tray hardware such as clamps, valves, and fasteners. Hardware is purchased on consignment, so customers only pay for what they use. This keeps turnarounds on time and under budget.
Quick response is the key to success
"Our success demands that we respond quickly to our customers' needs every day, but especially in emergency situations. We have to be available to answer technical questions, trouble shoot, and provide support wherever we can," says Bareis. "Our 'pit crew' company culture has developed over many decades and is embraced by everyone in our organization.
For more information on AMACS call Patricia Bareis at (713) 332-0322 or email pbareis@amacs.com. After hours, call (800) 231-0077 at any time for immediate assistance.