The Benefits of Random Packing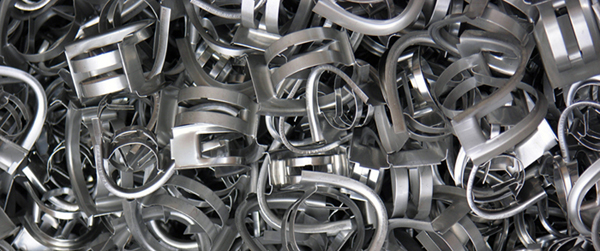 Random packings have been successfully used as an effective and cost effective means to increase a tower's capacity and efficiency for several decades. First generation random packing Raschig rings are still in use but have been displaced by new generations of improved products. They provide optimum performance and are available in a wide variety of sizes and materials including metal, plastic, or ceramic.
Random Packing Advantages
In many applications, there are many process advantages in using random. The best reasons to use random tower packings include but are not limited to:
Reduction of pressure drop throughout the column.
Reduction of liquid holdup in the column.
Increase of the capacity when compared to trays at the same efficiency.
Pall Ring Random Packing Advantages
The development of Pall rings was a significant advance because it opened up the ring's interior surfaces to vapor and liquid flow when compared to the Raschig ring. Pall rings were also modified to include a reduced height-to-diameter ratio known as the CMR ring to reduce pressure drop. The open ring design maintains even distribution in the tower and helps resist wall-channeling tendencies. The rings should also provide an effective distribution of liquids and gasses while resisting plugging, fouling, and nesting.
Pall rings are ideal for applications that include absorption/desorption, aeration, degassing, distillation, extraction, heat recovery, and stripping.
Random Packing Advantages by Material
Random packings are available in several sizes to suit most industrial applications. They range in size from 6mm to 90mm or larger. When specifying a packing size, capacity and efficiency requirements need to be considered. Nominal packing size should generally not be greater than one-tenth of the column's diameter. Random packing is usually chosen by the lowest cost material that will meet temperature and corrosion requirements. Some of the most commonly used materials from lowest to highest cost include:
Polypropylene – used in mostly aqueous systems up to 100 degrees Celsius.
Carbon steel – used in non-corrosive hydrocarbon systems.
Ceramic – used in nitric acid absorbers and sulfuric acid.
Stainless steels – used in most hydrocarbon systems.
PFA and PVDF – used in corrosive aqueous systems up to 150 degrees Celsius.
C-PVC and PVC – used in corrosive aqueous systems up to 90 degrees Celsius.
Certain applications may require the use of other materials such as aluminum, titanium, carbon, and Monel.
AMACS is a leading manufacturer of process tower internals, both in kind replacement and custom solutions, including random packing. Feel free call or e-mail us with your requirements to get a quick response!