Prevent Process Cooling Towers from Suffering Summer Fatigue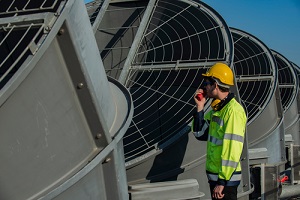 Processors on the Gulf Coast are no strangers to brutal summers. It also comes with the heaviest annual tolls on your cooling towers in most HVAC systems. It is highly advised to check performance as well as the physical condition of all cooling towers to ensure they can withstand the hot season.  This allows you to identify, diagnose, and repair any issues before they become more serious without putting unneeded strain on your system.
Routine and Preventative Maintenance
It is important to keep up with your routine maintenance throughout the entire year, as well as any preventative maintenance that arises due to your specific needs. This combo helps decrease or eliminate the occurrence of excessive energy drains, operational headaches, and expensive repairs.
Delayed maintenance can lead to overheats in scrap material, inefficiency in the heat exchangers, losses in refrigeration, and other component overuses and excessive use of energy. In short, proper maintenance lets the tower to do what it is programmed to do at optimal levels. For example, maintenance allows the water provided to devices able to draw away heat. The cold side of the heat exchanger may not receive water at the optimum temperature and be less able to draw heat from the process fluids as it is designed to.
Real World Examples of Preventing Summer Fatigue in Cooling Towers
One of the easiest maintenance tasks you can do is to do a quick walk around the towers to see if anything stands out. You should look for stains or water scale and clean any left by evaporation. Be aware that each tower has a different method for doing so and you should be sure to use the appropriate one for your tower and materials such as plastic or metal.
You may also use temperature loggers placed overnight to determine any fluctuations that are outside intended parameters. Other key items to check include but are not limited to:
Front fill performing to design.
Splash fill performing as intended.
Drops in condenser output.
Drops or changes in overall output.
In some cases, complex repairs are needed. In other cases, temporary cooling towers may be needed to keep from losing capacity or increase output.
More Tips to Prevent Process Cooling Towers from Suffering Summer Fatigue
AMACS is the Gulf Coast's leader in providing column internals and hardware for a variety of process facilities. We can help improve the efficiency of many operations by offering our expertise in the area of column internals. Contact us to discuss how we can help with your shutdowns, turnarounds, and outages.