Juston Thomson Stands Out at Australian Wheatstone Project!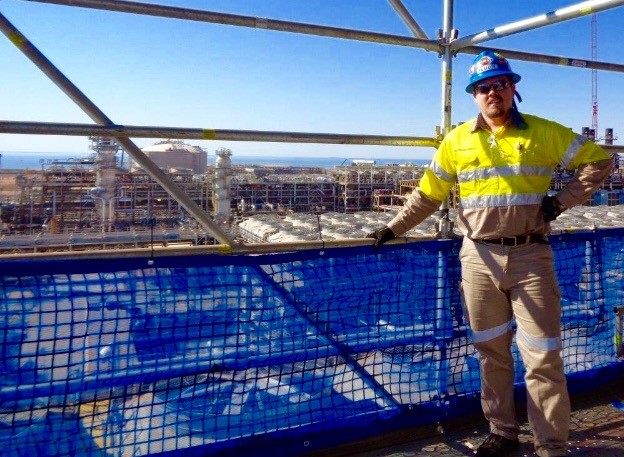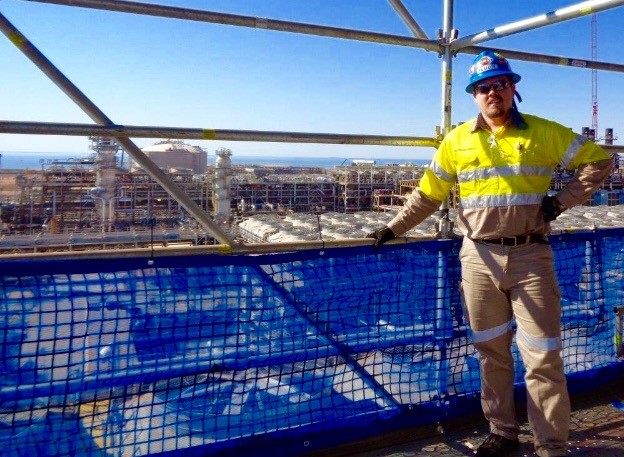 We would like to take time to publicly acknowledge one of our talented Field Service Advisors (FSA), Juston Thomson. We think we have a team of exceptional people at AMACS; but when a customer takes the time to express this, it deserves repeating!
AMACS has been working on the Bechtel Wheatstone project in Australia for several years, and the project is now nearing completion.  In the earlier phases of the construction process, Bechtel determined that there were so many pieces of equipment to be installed from so many different vendors, it would be a huge benefit to have the vendors provide an on-site field representative to guide equipment installation. Bechtel notified AMACS that our presence was needed on site, to ensure our tower internal equipment was properly installed.
AMACS wisely sent FSA Juston Thomson to Australia for what was originally planned as a four-week project. Juston was dropped off at a construction camp of 7,500 people in the middle of the desert, with the nearest town an hour away. For the next SIX weeks, Juston provided invaluable assistance to the Bechtel Field Engineering team.
Juston was to inspect all the AMACS equipment during and after installation pf each part. He was also expected to give guidance and direction for any deviations that were necessary during the construction period. However, Juston went above and beyond that role. During this phase, there were several vendors that were unable to be on site. When an issue arose with non-AMACS equipment that Juston was familiar with, he also provided expertise in these situations. Many problems were quickly solved due to his input, which accelerated the construction schedule.
After Juston completed the project, AMACS received the following email from key Bechtel management regarding Juston:
"I would like to recognize in some formal capacity that Juston from AMACS was particularly helpful to the team here.
Everyone agrees that from when he arrived on site, he merged seamlessly into the Bechtel Field Engineering team and supported us in all areas relating to the AMACS scope. In addition, he went above and beyond in supporting us in future DOMGAS scopes of work.
We have a lot of vendors come to site and be part of our team but Juston stands out as a representative who provided a higher level of support than what is seen from other FSRs. He understood his scope very well and he is well adjusted to understanding the difficulties that we face at site.
Juston was a standout performer on this project, and all of us are extremely grateful. He was instrumental in our success and a true credit to the AMACS organization"
Way to go, Juston! You exemplify the AMACS mission:
"We want to be your "best in class" supplier of process tower internals, with technically sound service, customer first philosophy, and the highest quality and integrity."