There are many variations and purposes for hold down devices. As the name implies, its general purpose is the hold packing, random and structured, in place within the process column. However, in some cases the hold down has been used as a platform to support and level a liquid distributor.
Download Packed Bed Supports

For random packing, the hold down consists of expanded metal attached to a flat bar framework that is then clamped to a support ring.
For structured packing, depending on the column diameter, the hold down involves a much-reduced framework, which adequately covers all the structured packing bricks.
Of course, all of these devices can be mechanical designed to withstand specified up-lift requirements. The most cost effective hold down for random packing is the hold down which is made an integral part of the Orifice/Riser liquid distributor. Expanded metal or anti-migration bars are welded beneath the vapor riser to prevent any movement of the random packing during normal operation and upset conditions. Integral hold downs have the following beneficial features:
1) They eliminate the need of a separate hold down.
2) They eliminate the need for an additional support ring.
3) The integral hold down never interferes with the liquid distribution.
4) There are additional cost savings in the elimination of installation costs for tower attachments and the hold downs.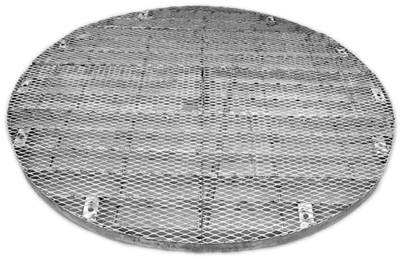 ---
Random Packing Gas Injection Support Plate
The design and construction of the multi-beam gas injection support plate allows for maximum open area while providing sufficient strength to support deep beds of packing and the dynamic liquid hold-up during column operation. The liquid tends to flow to the support plate valleys while the vapor is injected into the packing through the slots in the multi-beam walls.
---
Structured Packing Gas Support Grid
Support grids for structured packing are designed to achieve the necessary mechanical strength for deep beds of packing and dynamic liquid hold-up while remaining a flat support for the packing and still wide open enough so it does not limit the capacity of the high performance packing.