AMACS Appoints Industry Pro, Kelvin Johnson, National Sales Manager
We are pleased to introduce Kelvin Johnson as one of our newest and experienced members of our staff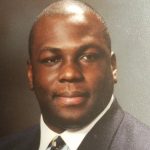 here at AMACS. He is a National Sales Manager who brings over 26 years of experience in the industry.
Background on Kelvin Johnson
Before beginning his position with AMACS, Kelvin spent 17 years at Sulzer Chemtech, which is headquartered in Switzerland but has a branch in Humble, Texas. Prior to that, Kelvin worked for Koch-Glitsch, in their Dallas and Benicia Offices.
In an interesting career turn, Kelvin initially received his Associates degree in Architectural Design from Texas State University. The company who hired him straight out of college had need of his architectural services for designing prisons. This was a side business of the company he worked for while they weathered the oil slump of the 1980's. However, Kelvin found he had a talent for the Mass Transfer side in the first few years of his career and shifted over when the oil slump ended. "The transition was not difficult because I was in Project Management," says Kelvin. "Whether construction, fabrication, or technology, the aspects of managing a project are all very similar."
Kelvin at AMACS
Kelvin has been with the company for a few weeks now and is still finding his way. We prefer our new staff to understand our products, work flow, and customer base, as well as get to know their fellow team members initially.
The transition from a large company to a smaller one is interesting and one that Kelvin is enjoying. "The biggest difference is that in a smaller company, we are able to give customers the type of personal attention that they are yearning for," says Kelvin. "At large corporations, it is difficult to provide the customer with the type of one on one service that is needed to develop true relationships because the focus is on getting as many orders as possible to cover the huge overhead they carry, that ultimately the customer pays for.  At AMACS, relationships are everything. We do all we can to be a reliable and available source for them, at a fraction of the cost."
Another thing that drew Kelvin to AMACS is their reputation as a leader in Mass Transfer Technology. "We fabricate a complete line of products here in Houston. We're in the heart of the energy corridor, and it's a huge plus to have a manufacturing presence in the area. Many of our competitors manufacture out of state and often outsource the manufacturing of certain products. When a plant has an emergency, time is everything and having the ability to provide products from our manufacturing facility in Houston, not only saves time, it also provides savings in freight costs."
Changes Kelvin has seen in the Industry
The biggest change that Kelvin has seen, has been the pre-planning that plants are now doing. "The customers want to cut cost, and it wasn't always that way," admits Kelvin. "Spending isn't what it used to be. In the old days, all internals were bought even if they weren't needed at that time. This is no longer the case. Customers now prefer to repair as much as possible and only buy the bare minimum. We've had to adapt our culture to accommodate this shift."
"The EPA is always a challenge because they can dictate to a degree what plants spend their money on," continues Kelvin. "Environmental restrictions our customers have to abide by determine the cost-effectiveness of manufacturing products in state. You can see a case where certain product lines and feedstocks are not going to be used here anymore and instead used out of the country because it's more cost effective. It plays a big role."
Most Interesting Challenge
Kelvin admits that every day, and especially every turnaround season, presents its own set of unique and interesting challenges. "Whether crawling inside a column to determine what parts are salvageable, or facing a dilemma in which there is limited time to manufacture and deliver emergency equipment, it can all be challenging.
"The single most interesting thing I've found in a column has been the extent of damage," Kelvin recalls. "I've seen columns over 40 feet in diameter, that have had half of the internals from top to bottom sheared away due to a process or operating upset. Equipment that was originally provided over several months, has to be provided in a matter of days"
Final Thoughts
"I'm looking forward to helping continue with the customer excellence AMACS has established and taking our service to another level," concludes Kelvin. "After 17 years of working for one competitor and 10 for another, you get a feel for how the industry expects things to be done, especially for turnaround service related work. AMACS allows me to listen to what customers want in their designs. We can work one on one and design internals to suit their needs accordingly, rather than dictate to customers what they can or can't have."
If you need to speak to Kelvin or one of our other experienced team members, call us at 281-716-1179 to discuss your tower internal needs.
Save